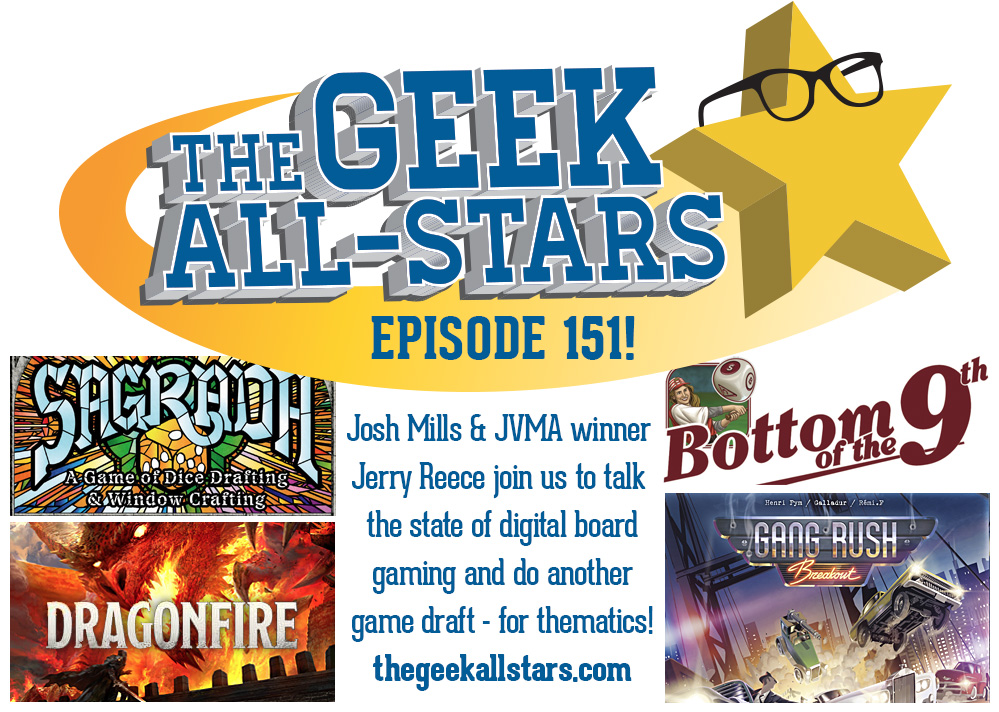 Dan and Chris are joined this episode by Josh Mills and JVMA winner Jerry Reece for a fun filled episode! We talk about the impact of Board Game Apps on sales and how publishers or designers look at them, and at online implementations.
Couple games mentioned and talked about
Justice League: Dawn of Heroes
Bottom of the 9th: Clubhouse Expansion
Great Western Trail
Dragonfire
Sagrada
Gang Rush Breakout
Ginkgopolis
And we let Jerry pick the topic of the latest board game draft as we bring Josh back to defend his title!
Draft Results
Chris
Jerry
4 The Adventurers: The Temple of Chac
Dan
Josh
Thanks for listening!
—GeekJock
Direct Download HERE
Connect with the Geek Allstars
Website | thegeekallstars@gmail.com | BGG Guild | Twitter | Facebook
Please give us a review on iTunes and let a friend know you like the show on social media or word of mouth, every little bit helps!
Sponsor Information
Cape Fear Games 
Enter Coupon Code: gas and get 5% off plus free shipping on orders over $100.
Magic the Gathering Online Traders
Board Game Bento 
Enter Coupon Code: allstars and get $5 off any subscription.
About the Author