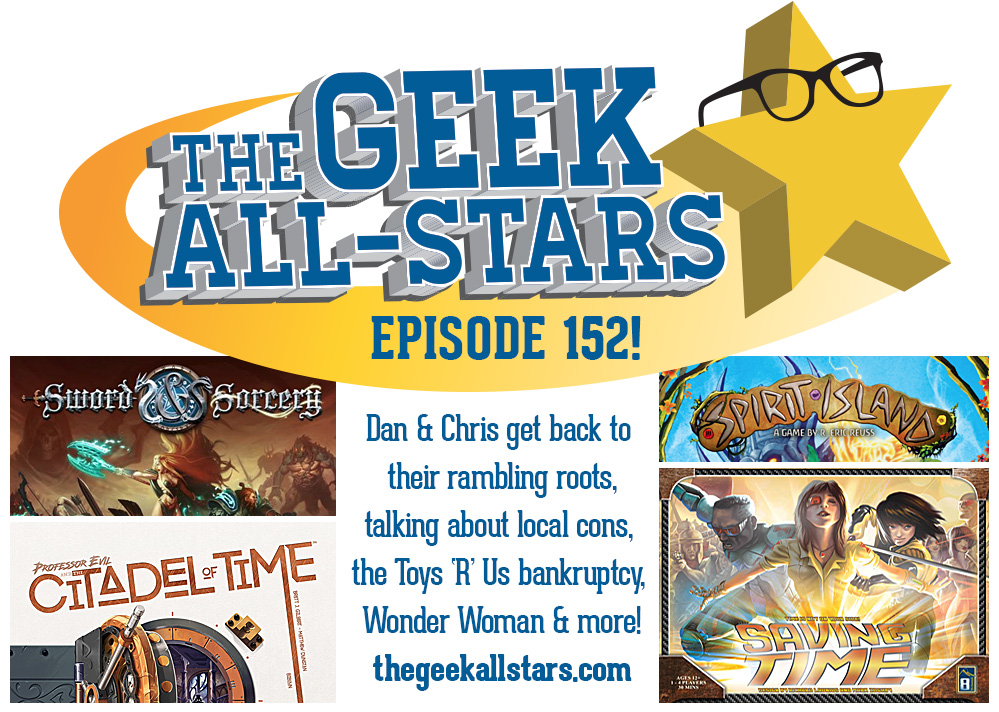 Tonight Dan and Chris have quite the cornucopia of discussions.
Everywhere ranging from Board Games to Movies to TV to retail to Introverted extroverts and beyond!
We also give a bit of an overview of Professor Evil and the Citadel of time, and Caverna Cave Vs Cave.
Please check out www.Gamersforcures.com for info about this year's event and also you can go here to donate–> https://www.firstgiving.com/fundraiser/gamersforcures/2017
As a reminder hit up this post and vote for who won last episode's Thematic game Draft!
Also make sure to like the post to enter this month's contest and like our page on facebook, as well as retweet this show announcement with #GETGAS
Vials on Prime (Pharmacy Show)
https://www.youtube.com/watch?v=qvFVW-prYyM&feature=youtu.be
Kickstarter —
Games talked about:
Spirit Island
Fake Artist Goes to New York
Thanks for listening! Next episode we are planning on trying to revisiting 2016's To try and to Buy from Gen Con.
Direct Download HERE!
–GeekJock
Connect with the Geek Allstars
Website | thegeekallstars@gmail.com | BGG Guild | Twitter | Facebook
Please give us a review on iTunes and let a friend know you like the show on social media or word of mouth, every little bit helps!
Sponsor Information
Cape Fear Games 
Enter Coupon Code: gas and get 5% off plus free shipping on orders over $100.
Magic the Gathering Online Traders
Board Game Bento 
Enter Coupon Code: allstars and get $5 off any subscription.
About the Author