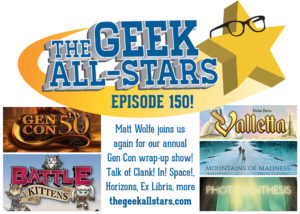 Kickstarter —  
Red Dragon Inn Battle for Gryport Pirates
Alexandria: Library in Cinders
GEN CON 2017
Asmodee Digital Announcements
Ticket to Ride: First Journey (Steam, Mac, iOS & Android), Carcassonne (Android & Steam) & Smash Up (Steam, iOS & Android).
2018 Games (From their Press Release)
Zombicide

: The collaborative game in which players take on the roles of survivors and work together to combat the undead.

Scythe

: Stonemaier's beautifully designed engine-building game.

Terraforming Mars

: The Spiel des Jahres nominee that has players advance human infrastructure across the solar system.​

Bananagrams

: The family-favorite word game.

Gloom
Legendary DXP Released (now on Apple Store) — Runs great now
Bottom of the 9th digital app launched bot9digital.com
Also we Talk about all the things we bought at the con, and what we missed. How the con felt with the record attendance this year, what parties or meetups we went to…
And of course GAMES!!!
Including:
Clank! In! Space!
Hero Realms
Tiny Park
King Frog
We Didn't Playtest This At All: Legacies
Horizons NOW UP ON KICKSTARTER!!
Mountains of Madness
Candy Chasers
Head of Mousehold
Battle Kittens
Templars Journey
Wasteland Express Delivery Service FLEEPLES!
Ex Libris
NHL DeckBuilder
Valletta
Photosynthesis
Scott Pilgrim's Precious Little Card Game
The Climbers
We will be back real soon with a Draft show next show and a special guest as well!
Thanks for listening!
–GeekJock
Direct DL here!
Connect with the Geek Allstars
Website | thegeekallstars@gmail.com | BGG Guild | Twitter | Facebook
Please give us a review on iTunes and let a friend know you like the show on social media or word of mouth, every little bit helps!
Sponsor Information
Cape Fear Games 
Enter Coupon Code: gas and get 5% off plus free shipping on orders over $100.
Magic the Gathering Online Traders
Board Game Bento 
Enter Coupon Code: allstars and get $5 off any subscription.
About the Author